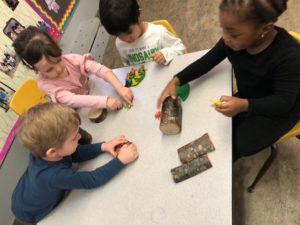 At Pathway children's interests are valuable to their learning and offer a rich variety of experiences. The type of activities we offer daily include:
Language and literacy
Physical activity – indoor and outdoor
Construction and design
Nature and science
Drama, music, dance and visual arts
Daily opportunities for active outdoor play
Rest time for children who require it, based on their developmental needs
Our program is designed to:
Encourage children to interact and communicate in a positive way
Foster the children's exploration, play and inquiry
Provide child-initiated and adult-supported experiences
Offer opportunities to create lasting relationships with others in the program
Toddler Program (Age 18 months to 2.5 years)
Our goal in our toddler program is to create a warm, welcoming and loving family atmosphere in which the children are given many choices, the independence to move, to be able to try new things and to gain a response to their emotional and physical needs. Our educators look for and respond to each child's signals and interactions while providing them with many opportunities to do things successfully and independently.
Preschool Program (Age 2.5 years – 6 years)
Our goal in our preschool program is to provide a warm, friendly and loving family environment in which each child can develop a positive sense of self. The development of self-esteem and social skills are encouraged through sharing and turn-taking.
Primary/Junior School Age (5.8 years – 13 years)
Our goal in our school age program, whether it is before-after school or full day, is to offer high quality afterschool care to generate positive outcomes for youth including improved academic performance, classroom behavior, and health and nutrition.
The activities in which children and youth engage while outside of school hours are critical to their development, highlighting the need for quality afterschool programs in all communities.